So, Listen:
---
---
There comes a point in life where you find yourself pedaling a tricycle up a long hill, after midnight, and you get passed by the same police car four times. And after the second time you realize that he is in fact just checking up on you, because you're a fat man with a beard piloting a strange contraption1 illuminated by blinking lights and a little glowing screen and reflecting flags, and shortly after that you realize that you're glad he's checking up on you because, after all, there are mountainous craggy bits in the foothills here, craggy bits that might be populated by ranging nocturnal bobcats or unleashed dogs, and you think as you're huffing and gasping and hauling your bulk up the hill in the cool night air — which is quite nice, actually — that being set upon by a bobcat would be kind of a terrible thing, and you were always aware that had Bob The Cat been just a little bit bigger, she would have killed you and eaten you.
But Bob's been dead, lo these two years and more, and you wonder whether, because your chin's pressed close to your chest by the incline (and you can just feel the fat there, very nice)…you wonder whether that would protect you from the savage quickened claws of a bobcat that's decided your low-to-the-ground gasping behavior on the road alone in the dark means that you're edible and easy prey. And you wonder what that would look like from the policeman's perspective: cresting the hill for one last pass by that wacky guy on the trike, and there in the glare of the headlights the guy's helmeted head has been replaced by a snuffling hissing spitting ball of fur that's doing its damndest to put all of the liquid bits of the guy's insides very much on the outside.
And then: you reach the top of the hill, and gravity takes over, and you sail, sail, sail, down into the dark, whooping because you've earned that from gravity even though you know gravity never gives, only loans, the cold wind striking tears from your eyes, and you don't even care when a jolting bump pops the lens off the left red blinky light and it clatters to the asphalt in the darkness behind you, where a bobcat might have been, or perhaps a dog.
And then, some more: you reach the back entrance to the complex and your gate code doesn't work, and you can loop around to the front entrance if you scoot on to the 154 which is a bad idea that will summon the friendly officer with his own flashing lights, stern now because pedal-powered craft are not permitted, not on that stretch of highway, even though you've done it at least once before, but not at night, ablaze with notice-me lights. So you commit to follow the little glowing GPS on its mount between your pedaling knees, the same GPS that guided you for four months as you pedaled across the country six years ago, and it leads you now along darkened streets in neighborhoods you've never been, until you realize that it's leading you to the stored waypoint labelled "HOME," "HOME" being the apartment you gave up a year ago, and though you can navigate to where you live now from where you once did, you've spent a long and winding way in the dark, alone in places you've never been, seeking a home that isn't yours anymore.
And and then, even more: you swing right, rightwards from the home that isn't yours anymore and towards the one that is, because you know the way now, it doesn't matter if the GPS gives up its last bar of battery, you don't need it, you know where you are.
You know where you are, and now that you know, you wonder how you got here, and why you've done this to yourself, and you know that it doesn't matter why, it only matters that, and the undoing of the damage is probably going to take much more effort than it did to cause it.
There's still time.
There's still time.
There's…still…time.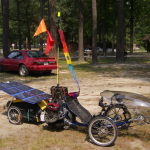 1 The strange contraption is this thing right here. Just the trike part, I don't have the trailer anymore because some asshole stole it after I ended my cross-country tour in 2006, and anyway I wouldn't ride with the trailer at night because a trailer is for hauling things and the only thing I had to haul this evening was my tremendous self.
---
---