May2010
---
Posted on May 28th, 2010 by Ian Wood in
Miscellaneous
.
Comments Off







by

OK, so you're barreling along, dig? Making good time. Smooth. Everything is moving with you, getting out of your way when you need it to, giving a bit of glam and flash to your edges, a big assist from the Universe. With me? Right on.
Then: a big old pile of bricks on your head, man. Like an even hundredweight at least, maybe more. Splits your cranium wide open, and all that glam and flash flees into a storm drain.
So you're lying there, surrounded by broken pieces of red masonry, and this bird–real fly–walks up and sits down on the curb next to you, looking at your big mess and your bricks and your split head. And so you try to give her the old Hey Babe, you know, but you've got a piece of skull lodged in your speech center, so you give her the old Heyuh Flaboo Zuzzich? instead.
But this babe just smiles and says, "He was like that when I found him. Honest."
Universe ain't got no kindness at all, sometimes, no kindness at all.
---







by

In June of 2007, I saw a phrase on a license plate frame on the back of a white SUV, arranged like so:
I KNEW THEY WERE LESBIANS
[license plate goes here]
BEFORE I KNEW THEY WERE MIDGETS

Its oddness is delicious. It is a veritable fondue of strange.
Who did the knowing? Who were these lesbian midgets? Was this something to be proud of, some sort of mutant super gaydar that is faster than the visual identification of the height-challenged? And why a license plate frame? Why not a tee-shirt, or a billboard?
A Google search for the phrase turns up predictably interesting results, but not for the anything that even remotely resembles the exact wording, and nothing at all to explain why someone would put it around their license plate.
Hand to something-worth-swearing-by, I truly saw this. The reason I know exactly when I saw it is because I blogged about it on my old blog, and that post is still moldering in the archive. I never got any answers back then, so when the phrase somewhat randomly popped out of my memory this afternoon I thought I'd post it again for you fine people.
Theories, anyone?
---
Posted on May 26th, 2010 by Ian Wood in
Miscellaneous
.
Comments Off







by

Dandyism is not, as many unthinking people seem to suppose, an immoderate interest in personal appearance and material elegance. For the true dandy these things are only a symbol of the aristocratic superiority of his personality. What, then, is this ruling passion that has turned into a creed and created its own skilled tyrants? What is this unwritten constitution that has created so haughty a caste? It is, above all, a burning need to acquire originality, within the apparent bounds of convention. It is a sort of cult of oneself, which can dispense with what are commonly called illusions. It is the delight of causing astonishment, and the proud satisfaction of never oneself being astonished…

Charles Baudelaire
The Dandy
---







by

Two of the main characters in my current novel project are transgendered, and the narrative moves through various genderqueer scenes with ease. That's all part of the world I've created, and as such it's normative: not a freak show, not a deliberately quirky trick. It's just how things are. For my part, I think it's a terrible thing to let mere chromosomes or the vagaries of society dictate how you shape and present your body. Our binary system of gender and sexual identity represents an oppressive failure of the sensual imagination, and I haven't got much patience with it. Even in the LGBT scene, there's still a certain uneasiness with the "T" portion of the letter salad, even more so than with the "B" ingredient. For example, read this story right here:
A judge in Malawi has imposed a maximum sentence
of 14 years in prison with hard labour on a gay couple convicted of
gross indecency and unnatural acts.

The judge said he wanted to protect the public from "people
like you".

Steven Monjeza, 26, and Tiwonge Chimbalanga, 20, have been in
jail since they were arrested in December after holding an engagement
ceremony.

The case has sparked international condemnation and a debate
about homosexuality in the country.

The British government, Malawi's largest donor, expressed its
"dismay" at the sentences, but has not withdrawn aid.
But there's more going on here. According to the Guardian:
There has rightly been an international outcry in response to the
couple's barbaric treatment, but the protest has been against the
perceived homophobia of Malawi's law courts. The problem is, however,
that one half of this couple does not primarily identify as gay.
Tiwonge is most probably transgender but possibly
intersex (in many parts of Africa people do not actually have clear
vocabulary to express this), and considers herself a woman. Indeed she
has lived "as a woman" all her life.
Whoops.
Autumn Sandeen has gathered many other commentaries on the situation, in addition to her own:
The Malawian couple has been charged and sentenced in relationship to
having a homosexual relationship. The LGBT legacy and new media has
picked up on the 14-year sentence based on the couple's relationship
being declared homosexual by the judge who sentenced the couple. And
let's be honest with ourselves — I believe we can safely say that from
past coverage by the LGBT press and LGBT blogosphere that this story
would not have gained as much traction in LGBT media if this were
considered a transgender or intersex story.

And, that's sad. Transphobia and homophobia both arise from the
same root — that root has to do a lot with lesbian, gay, bisexual,
transgender, intersex, and queer people not conforming with societal sex
and gender norms…
Supposedly there's an argument to be made for a necessary distinction between sexual orientation and gender identity, but that only works if you accept the concept of "orientation," the notion that there's some sort of sexual compass that one follows. To me that's an untenable fragmentation of human identity, resultant from our Puritanical cloistering of sexuality as something apart from who we are, a horny little daemon that pokes and prods us this way and that. I'm with Gore Vidal on this, who said, "There is no such thing as a homosexual or a heterosexual person. There are only homo- or heterosexual acts. Most people are a mixture of impulses if not practices."
In "The End of Gay Culture," Andrew Sullivan wrote:
Slowly but unmistakably, gay culture is ending. You see it beyond the
poignant transformation of P-town: on the streets of the big cities, on
university campuses, in the suburbs where gay couples have settled, and
in the entrails of the Internet. In fact, it is beginning to dawn on
many that the very concept of gay culture may one day disappear
altogether. By that, I do not mean that homosexual men and lesbians will
not exist–or that they won't create a community of sorts and a culture
that sets them in some ways apart. I mean simply that what encompasses
gay culture itself will expand into such a diverse set of subcultures
that "gayness" alone will cease to tell you very much about any
individual. The distinction between gay and straight culture will become
so blurred, so fractured, and so intermingled that it may become more
helpful not to examine them separately at all.
Humans like to categorize things, to arrange people and behaviors just so, and place them in little Aristotelian boxes. Socially, it is necessary to give authority to such distinctions in order to draw attention to injustice, because injustice is itself based on those very distinctions. In the case of Tiwonge Chimbalanga, we see that the end result of such categorization can in fact be further, incremental injustice: refusal of an individual's identity in favor of an accepted categorization.
Try this, just to see how it feels: two people who love each other were sentenced to fourteen years in prison because they did not hide that love. That's where the true injustice lies.
There are young generations now who know nothing of the Stonewall riots. They've grown up with Ellen, and Will and Grace, and legalized same sex marriage in some states. Still fewer know of the Mattachine Society, homophile pioneers of the 1950s. Today's queer teens will walk down roads in life that were smoothed by the struggles of those who came before them. The historian in me finds that a little sad, but the details of all history eventually hide from everyone except the intellectually driven. I look forward to the day when the politically-driven necessity of the LGBT letter salad itself fades away and becomes a curious footnote to a storied past.
---
Posted on May 22nd, 2010 by Ian Wood in
Miscellaneous
.
Comments Off







by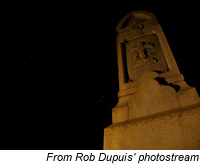 So I almost got caught in the cemetery this evening. I sneak in, you see, under cover of darkness, with my gold leaf kit and a little red LED flashlight, and apply gilding to the lettering on randomly selected headstones. I'm good at it–patient, meticulous. A complete gilding job on three or four stones will take me most of the night, and then I have to select other headstones and apply sealant to the carved letters, making them ready for my next trip out.
This evening I couldn't find the headstones I had sealed last weekend, so I spent some time shining my light about, discreetly, but not discreetly enough to avoid catching the attention of a passing member of the local constabulary. I took refuge in one of the small mausoleums–the lock on it has been broken for months, but not by me–while he drove his car up the long driveway and aimed his light among the headstones and monuments, but didn't see me peering out at him. He didn't notice my work, either. When it's done, it looks like the family of whoever's buried beneath the headstone sprang for the Deluxe Package.
Part of the reason I couldn't find a sealed stone to work on is because I've already gilded so many of them. That's the plan: gild all of them. All of them, except one. One headstone, out of 886 graves–I've counted–will remain plain and unadorned. It will stand out, to the observant. People who notice these sorts of things will see it and say, "Why is that headstone, out of all of these stones, free of gold?" Maybe they'll wonder about who's buried there, and whether there's any significance to his plain headstone.
And there is.
I fucking hated that guy.
---